The Great Jack O' Lantern Blaze is the signature Halloween event in the NYC area. Whether this year is your first Blaze experience or it's your fall family tradition, you don't want to miss this year's awesom experience.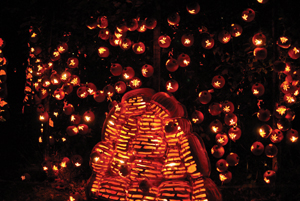 Arguably the area's biggest, most elaborate Halloween happening, the Great Jack O' Lantern Blaze in Westchester is on for 22 nights this year.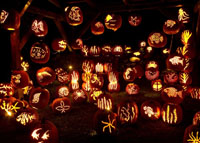 More than 5,000 individually hand-carved, illuminated jack o'lanterns make up this walk-through experience. This year, there will be flying pumpkin ghosts, gourd-filled jack-in-the-boxes, the Tunnel O' Pumpkin Love, a Pumpkin Prophesy, slithering snakes, a giant spider web, super-sized dinosaurs, an undersea aquarium, and a collection of "Little Monsters," all in an 18th-century riverside landscape.
Atmospheric music, sound effects, and synchronized lighting complete the experience. The Blaze is ideal for all ages, but kids who are particularly sensitive to the dark may feel a bit overwhelmed.
GIVEAWAY
NYMetroParents is giving away 4 VIP Passes to the Great Jack O' Lantern Blaze!

ENTER HERE FOR YOUR CHANCE TO WIN
2012 Blaze Details
Dates: Oct. 6-8, 12-14, 19-21, 25-31, Nov. 2-4 and 9-11. Times vary by evening.
Tickets: $16 ($20 on Saturdays); $12 children ages 3-17 ($16 on Saturdays); free for children younger than 3.
Advance tickets are required; all admissions are by timed ticket only. Tickets go on sale Sept. 4. Order online at hudsonvalley.org/events/blaze or call 914-631-8200.
Address: Van Cortlandt Manor, 525 South Riverside Ave., Croton-on-Hudson