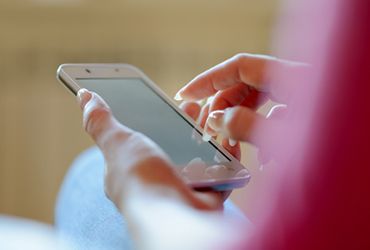 Has It Come to This? Texting My Daughter though the Dressing Room Door
Get kid-friendly activities sent to you!
Get the Best Family Activities
Sent to You Weekly!
We spend a lot of time these days with Emily on the inside of the dressing room and me on the outside. And I prefer those with curtains instead of doors. Just a velvety piece of fabric to separate me from my daughter. That slides over quietly on a rod rather than slamming shut. So I can ask her, "How does the coral tie-dyed shirt fit?" without yelling. And so she can easily respond, "Can you please grab me the next size?" without having to open and then re-shut a door.
When I spend time with Emily, just the two of us, I want us to have more back and forth—without closed doors. But why does it bother me now, while I'm standing outside the dressing room at Urban Outfitters? Is it because I finally have an afternoon out with my daughter and it doesn't really feel like quality time? That I can't hear anything she is or isn't saying from behind that heavy door?
The familiar sound of chimes is coming from my phone and I look down to see that Emily, only a couple of feet from me, has just sent a text. A picture of her, wearing a crocheted turquoise sweater and white pants, with this note: "I like these white jeaaanns!!" The door doesn't open. Maybe she's going to make this decision by herself. I'm about to knock on the door but instead, pull out my cell phone. I text her back, a winking smiley-face emoticon. I am meeting her on her terms. And suddenly, I feel much better.
I lean back against the wall and stare at the wooden door. I get it, that she needs to grow up. But how can I continue to change with her, so our mother-daughter relationship adjusts with her years? Perhaps Urban Outfitters has it right. Maybe, like in her room at home, Emily can and should maintain her own sense of independence—behind closed doors, alone in the dressing room, without my ability to ask her questions, talk to her, or touch her hand over the top. But sometimes I long for that little girl from the past, with her lopsided ponytails and pink high-top sneakers.
The door swings open and out she comes, wearing her old cut-off jean shorts and worn-in Michigan tee shirt. I smile as we pass the line of mothers and daughters now standing in line. We head upstairs and towards the register. I want to grab her hand in mine and swing our arms back and forth as we walk out of the store. Just like we did years ago. But instead, I put my hands into my front pants pockets. I turn to her: "Want to get an ice cream cone?"
"Yeah," she says, adding, "I want a vanilla one with colored sprinkles."
"I want a vanilla-chocolate swirl," I reply.
She holds on to the recycled shopping bag filled with her new spring clothes as we head outside. And we walk together out onto the busy sidewalk. Side by side.