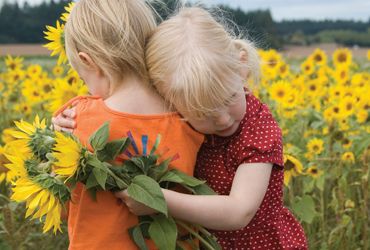 Graduating from Asking for Advice to Giving It—Now That's a Good Thing
Get can't-miss family activities sent to you!
Get the Best Family Activities
Sent to You Weekly!
Making Progress as a Parent of a Child with Special Needs
You may not even realize that you have come to this place. You may find out by accident, the day you get into an exchange with a new parent in a therapy waiting room, a support group, an Internet forum. It's as if you woke up one day fluent in a foreign language you had no idea you were studying. Perhaps to your own surprise, you have become a source of empathetic, practical advice about therapists, doctors, schools, diets, and suggestions for the checkout-line meltdown (plus snappy lines to say to the people staring). And it feels great to help! You feel a little weight lifted at the thought of helping someone who reminds you of yourself not too long ago.
When I came to the point where I was able to offer support and advice to other parents, it was a revelation to me. I felt like yelling: Take THAT, special needs! I talked to someone without crying—in fact, I even smiled! Maybe I really helped that person, maybe I suggested that someday things will be better. And that is the moment when I realized that things actually were better. Very different from what I ever expected, but so much better than they had been. It was so empowering to see that my rotten experience could help me do something good for someone still in those early, awful days.
This rush of feeling can be addictive. I actually did get addicted to it, and eventually I changed careers to help other parents for a living, so now I get to feel it all the time. I see myself in each new person I talk to, and every conversation helps me put even more distance between me and the wreck I used to be. I can't go back in time and reassure my raw, terrified earlier self that better days lie ahead, but I can reassure others. Helping others has been enormously healing.
Medical students in their experiential training learn the phrase "See one, do one, teach one." Going from asking advice to giving advice is a kind of graduation, one that allows you to take stock and see how far you have come. Using your experience to help someone else is utterly redemptive—an act of pure good, defiance in the face of fate. Every time I help another parent, I am really helping myself, and it allows me to take another step in my own progress towards peace.