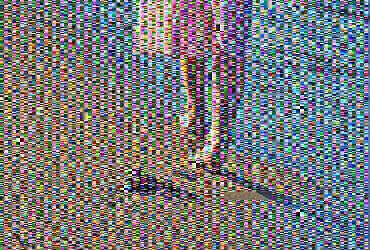 Et Tu, Brute? Learning to Let Go
Get kid-friendly activities sent to you!
Get the Best Family Activities
Sent to You Weekly!
Fast-forward two years, now kindergarten. Ours is a full-day district (my then dramatic response: like a knife in my chest). Lest you think I had gotten better with the notion of letting go, think again. I found myself calling private schools to inquire if they had half-day programs. Home-schooling became a remote possibility. The idea of moving actually did cross my mind.
Finally, at my 5-year-old daughter's insistence, it was declared that she would, indeed, remain in the house we currently brought her home to and attend full-day kindergarten. For her, this was merely destiny; for me, it was misery. My daughter has unwittingly mastered the art of persuasion. She possesses wonderful communication skills, eloquently expressing her thoughts and effectively making every effort to enforce her ideas.
In kindergarten, she announced that she would master the monkey bars, and soon was completing the entire run with dogged determination. As a young teen, she chooses to maintain an especially rigorous course load of advanced classes in spite of her parents' encouragement to not sacrifice her peace of mind as she strives to fulfill her potential—and, true to herself, she continues to succeed. She has very strong convictions, and when she's made up her mind, there's very little chance of changing it. My mother, her adoring grandmother, always touts this ability as a strength that will bode her well in life.
Et tu, Brute?
Such a strong will no doubt proves helpful if one wants to be the next Madeline Albright, a UN peacekeeper, or even a night guard at Guantanamo Bay. But when it's an inherent trait in the child you are parenting and hoping to influence? Well, not so much.
The final denouement came when we received her bus pass. Bus pass? We lived just down the road! Whose idea was this, anyway? We're not talking a mini-bus—you know, the cute, pint-sized buses children tend to be escorted on? No, this was the real deal. Not only did the district offer a full-day program, it also sent a full-size bus to carry my little girl to school in. This time, I had recurring thoughts of "skitching" on the back of it. These, too, began to fade as my child became more and more excited and I (slowly) began to realize that letting go was exactly the right thing to do.
Children need to have the proper supports in place, so that they can move forward and experience all that life has to offer; when we come to the understanding that both parent and child are learning to trust—themselves, one another, and their path in life—the bond that we were so terrified of weakening or even breaking becomes stronger, still.
As we approach yet another milestone in my daughter's beautiful, young life—high school!—I will once again hold fast to the truth that my child is headed where she needs to be. The first time she gets behind the wheel of a car, has her first serious relationship, or makes a decision about where she'd like to attend college, my daughter's dogged determination will, once again, force me to rise to the occasion. I will have to rely on the trust we've been building all along.
In letting go, we are both learning to live more fully.