Seven is Sufficient - Family Size and Manhattan Real Estate
Get can't-miss family activities sent to you!
Get the Best Family Activities
Sent to You Weekly!
   Although the family now has a car, for years Cortney relied on public transportation, and notes that even now, she uses the bus and subway for afterschool travel.  But the demands of getting kids to three different schools make driving a necessary evil.  She points out, though, "I would live in the car if I lived anywhere else." Cortney relishes walking to parent-teacher conferences, or spending the day hanging out with the whole family in Central P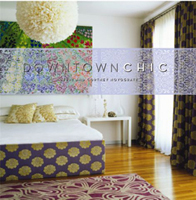 ark. "Everything is here for us. We just have to be creative," she says. 
   She admits that her brood can sometimes "make enemies," when they enter a building with a small elevator, say, and monopolize the space.  "But we also make friends," she quickly adds.
   Cortney laughs off the challenges of wrangling so many kids, though, she says, when she had a 15-month-old boy and newborn twin babies, "I gained a lot of strength that year." She takes parenting one day at a time. When she was having her fifth child, she thought she had worked out the complexities of pushing a double stroller with the twins, holding her 4-year-old's hand, letting her oldest walk alongside, and carrying the latest child in a front pack – and then she turned out to be pregnant with twins again. "I could have been overwhelmed with all these babies," she allows, "but you can dictate what kind of life you want to have."  So far, Cortney has managed to dictate success.
   Somehow, Cortney and Bob have also had time to write a design book, Downtown Chic (Rizzoli), coming out in May.  But so far, Sixx Design will remain unchanged, even with a seventh child.