Cooking for three or four or five?
Get can't-miss family activities sent to you!
Get the Best Kid-Friendly Activities
Sent to You Weekly!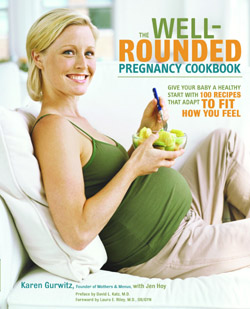 Gurwitz, who grew up in Montreal, takes advantage of her adopted city's bounty, shopping at the farmers' market with her kids and supplementing with Fresh Direct and Whole Foods. "I am not totalitarian, not 100 percent organic or farmers' market," she says.  Just like her Mothers & Menus concept, she is all about making things easier for a mom.
   Gurwitz decided not to go on a book tour because she wants to be around her kids, who are now 2, 5, and 6.  She has done cooking demonstrations at Whole Foods; one this month focuses on getting partners involved in the cooking.  This is not in issue in her own home; Gurwitz calls her husband her number one supporter and says she could never have written The Well-Rounded Pregnancy Cookbook without his help.
   For more information on Mothers & Menus, go to http:// www.mothersandmenus.com.