Connie's Bakery: Foundation Sweet Success
Get can't-miss family activities sent to you!
Get the Best Family Activities
Sent to You Weekly!
"We interview people every six months for our apprenticeship program," Manber says. "Many of our graduates have gone on to jobs in the food service industry and elsewhere."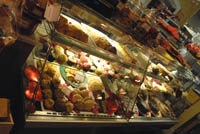 He proudly mentions that the assistant pastry chef at Connie's, Jamie Jeffrey, started out as an apprentice in the program. "I've had my share of fortunate experiences working at some noted restaurants," Manber says, "and I am excited by the fact that I get to help others in some way. People coming into our program really want jobs and they work hard."
Deena Plotka, chief operating officer and president of Connie's Bakery and General Stone, says that although it is exciting to receive new apprentices every year, the atmosphere is a close one and it's sad to see people go. "We are like a family here, so people don't want to leave," she says.
In keeping with the company's mission, any leftover food from the end of day's business at Connie's does not go to waste. It is given to Food-P.A.T.C.H., a Westchester food bank. And its philanthropic philosophy extends to social responsibility. "We make our buying decisions largely to help local farmers and artisans," says Plotka.
The general store, for example, features handmade toys and baby clothes made by local artisans. "One company whose pewter and sterling silver jewelry we sell donates 10 percent of its profits back to charity," Plotka says. Both the bakery and general store have a "great repeat clientele," according to Plotka, but also rely on word-of-mouth. The establishment is tucked away on a side street and therefore not conspicuous to the general public. It is doors away from Starbucks. "We love it when people find us for dessert after their coffee," Plotka says.
The bakery's repertoire also includes handmade jams and gift baskets. All of this sweetness comes back to one thing: "The goal is to give back," Milstein says. 'We give people opportunities, we train and guide and bring sweetness to the lives of others."

Connie's Bakery and General Store is located at 41 S. Moger Avenue, Mt. Kisco. 914-242-2014; 866-926-6643; www.connies.org.