Westchester Skating Academy: year-round, twin-rink ice skating facility. WSA programs include public skating, Learn to Skate classes, birthday parties/group events, in-house hockey leagues and clinics, and specialty programs (Kids Night Out and karaoke nights). Don't forget the health benefits of ice skating! You can achieve a superior cardiovascular workout, increase your endurance, tone your muscles and enhance your mental fitness by increasing your self-confidence and exercising your overall mental control.

Learn to Skate
Classes Starting every 8 weeks
**NOW WITH CLASSES ON MONDAY**
Our Learn to Skate Classes start this week. At The Westchester Skating Academy, we are committed to fostering the development of every skater that enters our facility. The "Learn to Skate" program teaches the sport of skating to enthusiast from three years old through adulthood.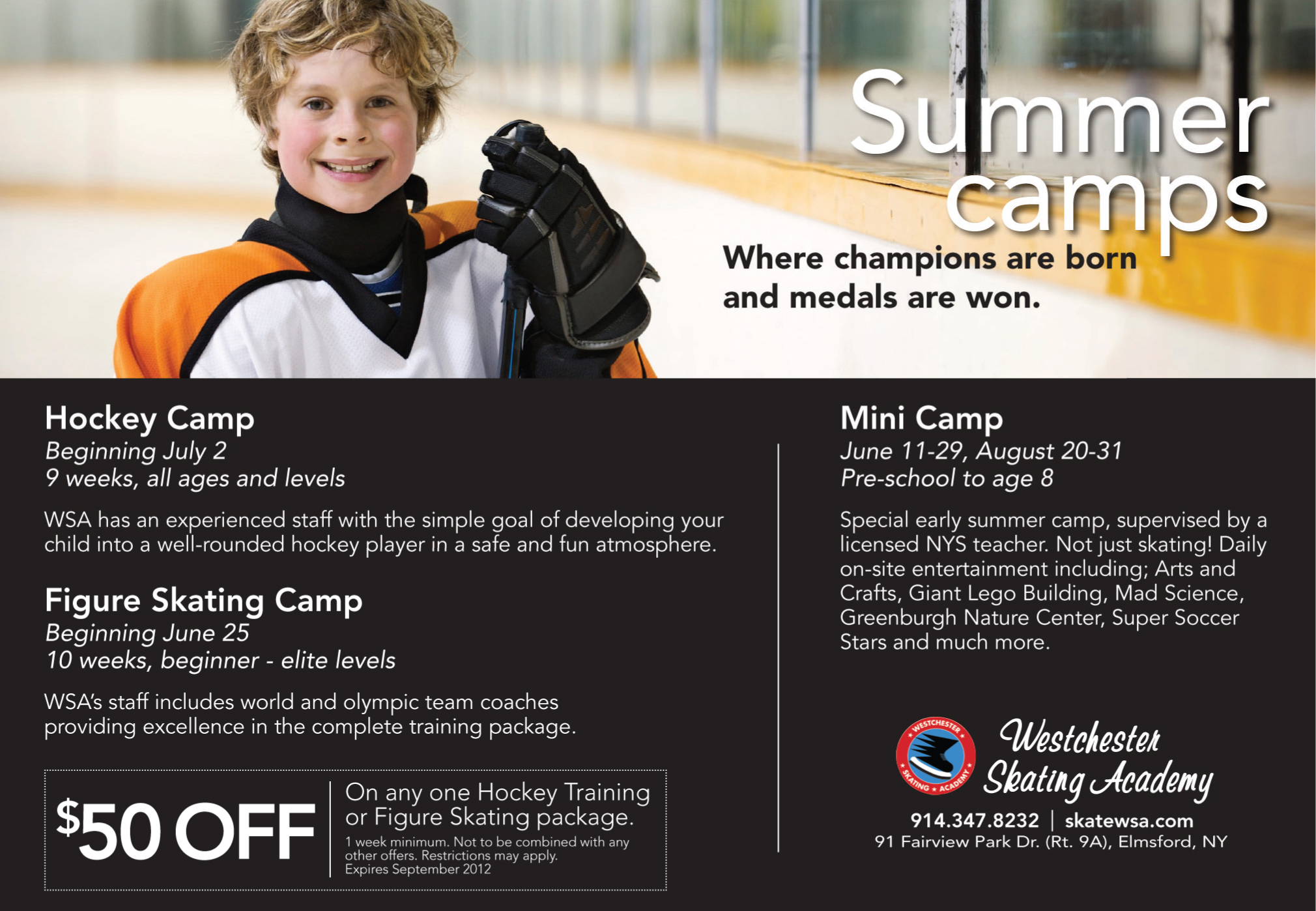 SUMMER FUN – PROGRAMS & CLASSES – PRINT GUIDE
Early summer MINI Camp, for children preschool to age 8. Weekly Camp, June 10-28 and August 19-30. Not just skating! Daily activities also include Arts & Crafts, Lego Building, Mad Science, etc. Ten-week Figure Skating Camp program starts June 24, with World- and Olympic-team coaches. Nine-week Hockey Camp program starts July 1, and develops boys and girls into well-rounded hockey players. All levels, and includes on- and off-ice activities/training.
Read More About Westchester Skating Academy (WSA)
Summer Activities in Westchester County, NY Part 2
Do you need great summer activities for kids in Westchester County, NY? Use our guide to find kids classes, Westchester summer camps, summer programs, activities near Westchester County, and family excursions close by. Summer activities in Westchester are at your fingertips.
Is Hockey the Right Sport for Your Child?: Tips from NY Islander Doug Weight and Other Experts
Thinking of becoming a hockey parent? NY Islander Doug Weight and other experts weigh in on the pros and cons of hitting the rink with your child.