Dr. Pilar B. Wellansky is a New York State licensed Psychologist who works with children, adults, families, and groups. She received her Master's degree in School Psychology from Yeshiva University in 1994 and her Doctorate of Psychology (Psy.D.) from Yeshiva University in 1999. She has worked, consulted and trained in a variety of mental health and school settings including Columbia Presbyterian Babies' Hospital, New York Foundling Hospital, The Children's Village, Four Winds Psychiatric Hospital, JRW Institute of Alcohol Studies, Pleasantville Middle & High Schools, and Solomon-Schechter Lower School. Dr. Wellansky established her private practice in Pleasantville, NY in 2000.
The Friendship Builders Program:
Group therapy for children and adolescents who need help with social skills and feelings management. The Friendship Builders Groups utilize a cognitive-behavioral approach to help children learn the necessary skills to be successful socially. All skills and techniques are taught through real life experience in the group and multi-sensory games developed by Dr. Wellansky. The Friendship Builders Program consists of once-a-week therapy groups during the school year, weekend workshops in the fall and spring, and one week mini-camps in the summer. The program is designed for students in 1st-12th grade.
Fall registration begins September 6, 2011.
Goals of the Friendship Builders Program
*Improving Conversation Skills
*Recognizing Social Cues
*Learning How to Integrate into a Group
*Increasing Impulse Control
*Building Conflict Resolution Skills
*Developing Social Self-Awareness
*Dealing with Teasing
*Increasing Leadership Skills
*Learning about how Feelings Affect Behavior
*Developing Strategies to Manage Feelings
*Building Self-Esteem
*Making Friends
*Having Fun
To Register, Contact
Pilar Wellansky at
(914)773-0680 or
pwellansky@optimum.net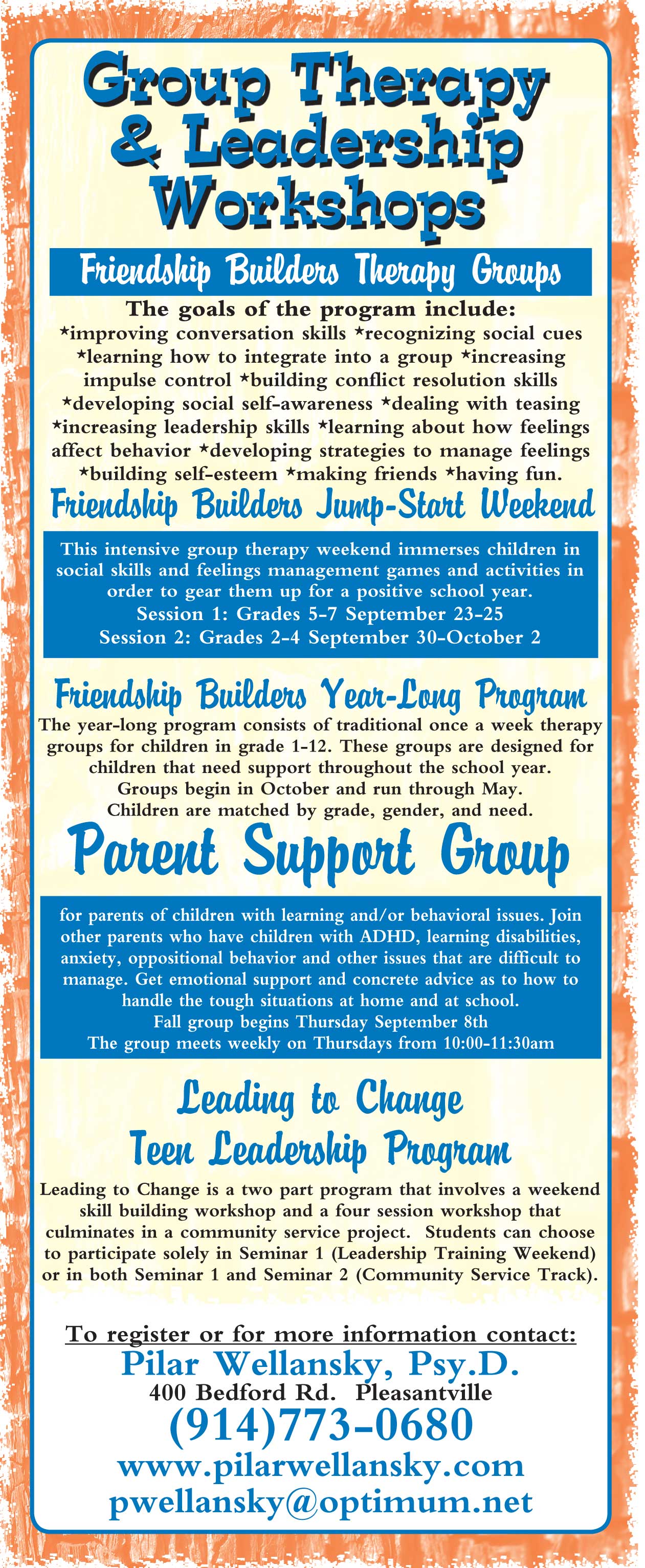 Want to learn more about this business? Send them a direct inquiry.
Be a good fellow parent and share this with a friend who would be interested
Read More on NYMetroParents.com:
Summer Activities in Westchester County, NY Part 2
Do you need great summer activities for kids in Westchester County, NY? Use our guide to find kids classes, Westchester summer camps, summer programs, activities near Westchester County, and family excursions close by. Summer activities in Westchester are at your fingertips.

Sandy Hook Survivor Brings Compassion into the Classroom
First-grade teacher Kaitlin Roig survived the shooting at Sandy Hook Elementary and saved 15 students during the tragedy. Now, Roig is taking the tragedy and using it as an inspiration to teach kids about compassion in her own classroom and beyond.

Chapel Haven Wins National Award for Autism Program
Chapel Haven, a nonprofit program in New Haven, CT, that helps adults on the autism spectrum to lead independent lives, received an award from Advancing Futures for Adults with Autism that includes a $5,000 grant.

Homegrown Heroes: The Gift of Friendship
The Circle of Friends promotes inclusion and friendship for kids and teens with special needs among their peers with several programs, including a weekly Home With Friends program or a Sunday Teen Program.

10 Ways to Help Build Your Son's Self-Esteem When He Has ADHD
With boys affected by ADHD, many have low self-esteem. Authors of "Raising Boys with ADHD" share tips on how parents can help their sons strengthen and build their self-esteem.

Legoland Discovery Center Westchester Opens in Yonkers
Legoland Discovery Center Westchester opens its doors in Yonkers, NY. This indoor amusement park featuring more than 3 million Lego bricks, plus Lego-themed rides, games, and more, is the first of its kind in the New York City area.

Chapel Haven Receives Grant For Successful Program For Adults On The Autism Spectrum
Chapel Haven has received a prestigious national award for its innovative and successful program for individuals on the autism spectrum. Advancing Futures for Adults with Autism, an initiative with the mission to support the growing number of people on the autism spectrum who are moving into adulthood, bestowed Chapel Haven with its first AFAA Applauds award.

Lego Lovers Rejoice: Legoland Opens in Yonkers
Legoland, a popular Lego-themed attraction, is set to open in Yonkers. The location offers birthday parties for children in Westchester County and features a 4-D theater, two Lego-themed rides, and a café.

How to Help Your Child With Special Needs Make Friends
Friends are essential to a happy life as they enrich our lives, boost self-esteem, and can provide moral support. Help your children make friends and create good relationships in an effective and encouraging way with advice from The Child Mind Institute.

16 Fun Valentine's Day Events for Kids on Long Island
These 16 fun and low-cost Valentine's Day events for kids on Long Island include craft workshops, baking and cooking classes, and more in Amityville, Cold Spring Harbor, Floral Park, Garden City, Glen Cove, Hicksville, Oyster Bay, Plainview, Port Washington, Riverhead, Westhampton, and Yaphank.