The Scarsdale Ballet Studio was established in 1992 by Christian Claessens and Diana White. As lifelong professional dancers and teachers, it was their goal to offer Westchester residents classical ballet training of the highest quality. Their syllabus combines elements of the European, American and Russian schools and is taught by instructors with distinguished credentials.
Class Offerings:
First Division:
Creative Ballet is an age-appropriate introduction to classical dance using rhythmic games, simple steps and positions, imagery, props, and improvisation. The gently structured curriculum is based on the innovative "Leap 'N Learn™" syllabus which was developed by a former dancer in collaboration with a child psychologist.
Dress code, Girls: pink leotard, tights, and slippers, skirt optional, hair secured away from the face. Boys:white t-shirt, socks and slippers, black shorts or sweatpants.
Second Division
Basic Classical Ballet Technique,
beginning with an Introductory Level for 6-year-olds
Second Division classes are meant to inspire a love of ballet in a traditionally structured, yet nurturing environment. Ballet is still considered to be the foundation of most dance styles and is strongly recommended for gymnasts, skaters, and competitive dancers. Classes include barre-work, basic vocabulary and positions, and simple combinations of steps in the center. Correct alignment, port de bras, turn-out, and footwork are taught as goals to reach for. We encourage all our dancers in Level A and B to take at least two classes per week. Though we understand that this is not possible for everyone, those who do will progress more quickly.
Dress code, Girls: black leotard, pink tights and slippers, long hair in a neat bun, short hair in a headband away from the face. No legwarmers, t-shirts or sweatshirts. Character shoes and character skirt if appropriate. Boys:White t-shirt, socks, and shoes, black tights or shorts.
Third Division
In Levels C through E, dancers continue to work on the fundamentals of classical Ballet Technique while learning steps and combinations of increasing difficulty. Character, Pointe, Variations, Partnering, Contemporary Styles, and Stretch and Tone are part of the curriculum. To be eligible for Pointe, Level C dancers must be at least 10 years old and taking at least 2 technique classes per week. Elements of Balanchine Style® and excerpts of his ballets are introduced to advanced dancers. Our Conservatory Program is designed for dancers 10 and up who wish to make the study of ballet their primary after-school activity.
Conservatory I dancers are required to take a minimum of 3 ballet technique classes per week. Conservatory II must take at least 4 ballet technique classes.
Level D offers Intermediate Ballet classes for dancers, aged 12 and up, who have had previous training. There is no minimum weekly class requirement, but 2-3 technique classes are strongly recommended. Two technique classes per week are required to be eligible for pointe class.
Conservatory I and II dancers must attend the required minimum of ballet technique classes per week at SBS, unless special permission has been obtained from the Artistic Director. The faculty of SBS will not accept new private students who are not full-time SBS students.
Level E is a very challenging course for dancers, aged 14 and up, who have had at least four years of training at SBS or the equivalent. There is no weekly class requirement; however, most Level E dancers take class on a daily basis. New students must be evaluated by a faculty member before being admitted to this level.
Well-rounded Third Division ballet dancers should consider taking classes in Pointe, Partnering, and Contemporary Ballet.
Dress Code: Female dancers: black leotard, pink tights, pink shoes. Level E women may wear any color leotard. Male dancers, any color t-shirt, no graphics, black tights, white or flesh- colored shoes.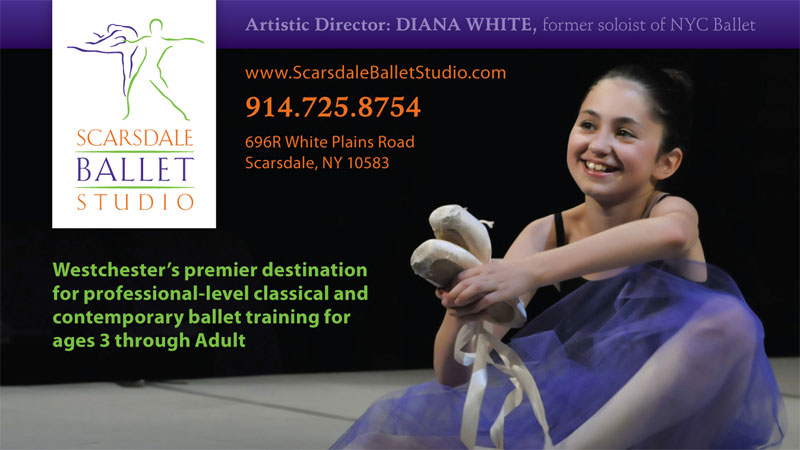 HEALTH
Dance develops flexibility, strength, endurance, and poise. It's a great mind-body workout, and above all, it's joyful! Directed by former NYC Ballet soloist, Diana White, the Studio is recognized for the quality of its curriculum, and the professionalism and supportiveness of its faculty. Beginning with classes for children 3 years of age, SBS shapes each child into a healthy, technically accomplished, well-rounded dancer, regardless of his or her aspirations. Classes in Classical Ballet, Pointe, Character, Contemporary, and performance opportunities. Moms can try "Your Ballet Body Workout", as well as beginning and intermediate ballet classes.
Want to learn more about this business? Send them a direct inquiry.
Be a good fellow parent and share this with a friend who would be interested
Read More on NYMetroParents.com:
Summer Activities in Westchester County, NY Part 2
Do you need great summer activities for kids in Westchester County, NY? Use our guide to find kids classes, Westchester summer camps, summer programs, activities near Westchester County, and family excursions close by. Summer activities in Westchester are at your fingertips.

Summer Activities in Westchester County, NY
Do you need great summer activities for kids in Westchester County, NY? Use our guide to find kids classes, Westchester summer camps, summer programs, activities near Westchester County, and family excursions close by. Summer activities in Westchester are at your fingertips.

Taekwondo Studio Offers Women's Self-Defense Workshop
Counterstrike, a women's self-defense workshop created by Arnold van Deuran, Ph.D., director of Workout Place, is now offered to women in Bardonia. The self-defense class for women in Bardonia teaches young women the skills they would need to fend off an attacker.

Hastings Yoga Offers Class for Expecting Mothers
Westchester yoga studio Hastings Yoga now offers a prenatal yoga class for expecting mothers. Each pose that is part of the class benefits pregnant women by stretching their bodies and can be used to help with pain during labor.

14 Fun Mother's Day Events in Westchester
Looking for fun things to do for Mother's Day in Westchester County, NY? Our list includes Mother's Day crafts, shows, and outdoor activities in Katonah, Montrose, Mount Kisco, Peekskill, Rye, Scarsdale, South Salem, Tuckahoe, White Plains, and Yonkers.

7 Mother's Day Events in Rockland
Looking for things to do for Mother's Day in Rockland County, NY? You can make a Mother's Day Gift in New City, Orangeburg, or West Nyack; treat Mom to a Mother's Day brunch in Pomona; or enjoy an outdoor Mother's Day event in Cornwall, the Bronx, or Tenafly, NJ.

Scarsdale Yoga's New Drink Bar Makes Fresh Juices, Smoothies
Scarsdale Yoga recently opened a juice bar in the studio to promote healthy living by making juices, smoothies, and protein shakes with fresh, locally grown produce. This is now the only location in Scarsdale to offer high quality organic drinks made from whole foods with no added sugar.

Birthday Party Ideas for Your Child's Next Big Bash
From birthday party invitations and favors for the goodie bags to novel birthday party games and props, here are fun ideas to help you plan your child's next big birthday bash.

7 Earth Day Events for Kids in Westchester
Check out these 7 fun things to do with your kids for Earth Day in Westchester County, NY, including festivals, nature programs, and craft activities in Larchmont, Mount Kisco, Scarsdale, South Salem, White Plains, and nearby in Carmel and the Bronx.

Music Education Studio Offers New Choral and Summer Music Programs
East-West Music Studio in Flushing is offering two new programs: a summer music program and an after-school children's choir, both for ages 6 through high school. Both programs end with music performances for parents to attend.