SummerArts camp
SummerArts camp is an incredibly rich and diverse arts experience for both kids that are passionate about arts and crafts and those that are trying to broaden their horizons and trying something new. From its roots as a single-week camp the last week of August, SummerArts has grown into a multi-week arts and crafts camp that has attracted an impressive list of teaching artists and has come to be loved by families for offering their kids a chance to experiment with different artistic mediums and express their creativity in a supportive environment - all while making new friends and connections with other creative kids from southern Westchester County.
Program
The program runs all 4 weeks in August in Hastings-on-Hudson. Families can sign children up for 1 or all 4 weeks. Each week offers a different theme from the last, letting the kids experiment with all types of artistic expression. Throughout the month we'll offer ceramics, weaving, sculpture, textile painting, pop art collage, improv, dance and expressive movement, acting, songwriting, African drumming and more. All teaching artists are both very experienced in their respective medium AND experienced teaching kids. Please read below about several of our distinguished teaching artists. A typical week may feature 2 visual arts classes, 1 music class, 1 movement or theater class. Kids will attend 4, hour long classes each day, combined with break time to spent playing games outside, hanging with new friends or reading a book under a tree.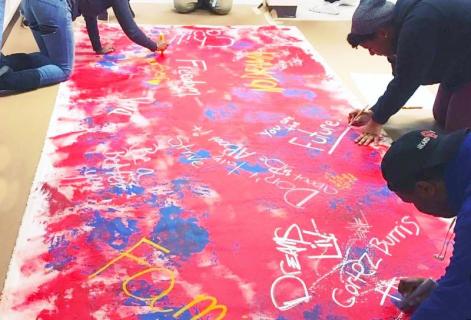 Who:
Kids entering grades 3rd – 9th Dates: • August 2 – 6 | Week 1 • August 9 – 13 | Week 2 • August 16 – 20 | Week 3 • August 23 – 27 | Week 4 When: Monday through Friday; 9am to 3pm Rates: $500 per week plus a $35 registration fee (per family)
Where:
SummerArts is conveniently located right off the Saw Mill Parkway at First Reformed Church (18 Farragut Avenue) in Hastings on Hudson, NY. Both drop off and pick up are a cinch as there are two half-circle driveways with counselors to take your kids from the car to their classrooms.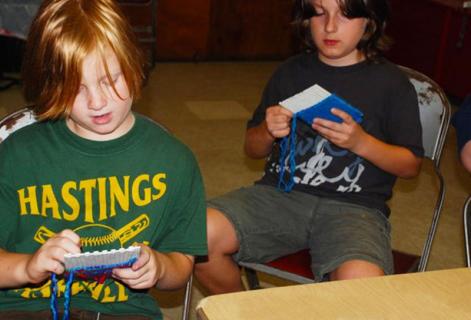 COVID Guidelines:
SummerArts is operating this summer in accordance with CDC and NYS COVID Guidelines. We will make use of outdoor spaces and require mask wearing for those that are not vaccinated. There will be sanitation stations throughout the facility and staff will clean all shared spaces multiple times per day. Campers will be required to bring lunch and snacks as well as their own water for the day. SummerArts is operating a pod model this summer. Campers will be grouped with other similarly aged kids and, instead of rotating the campers through teacher classrooms, the teachers will rotate through the different classes. There will be four groups of 10 campers each week. In addition to having its own classroom, each pod will have its own designated outdoor space for breaks and lunch.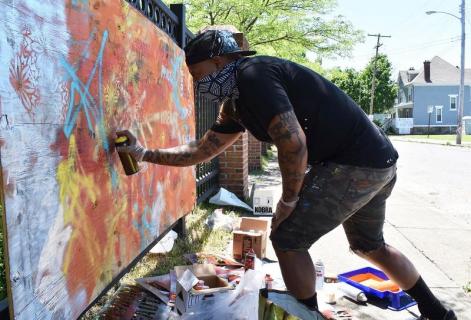 Some of our Teaching Artists:
*Haifa Bint- Kadi, Haifa is a classically trained as a mosaicist Her goal when working with young artists is to develop their technical skills, artistic interpretation and to impart self-confidence in their art-making skills. She currently teaches art as an Adjunct at SUNY Purchase and F.I.T, but throughout the school year, she works with students in the classroom teaching how to use unconventional materials in creative ways. *Kofi Donkor, Maxwell Kofi Donkor is a Master drummer and Asante Prince who was born and raised in Ghana. Kofi was chosen to carry on the ancestral drumming tradition and spent much of his childhood learning drumming from his grandfather. Kofi now lives and works in New York State where he is the leader of the Sankofa Drum and Dance Ensemble. The group promotes teamwork and community building through their performances and workshops at events, schools and festivals. Kofi has been an active member of Bridges of Peace and Hope for many years, and he believes that the arts (visual and performing arts) are a sure way to bringing people of all races, culture, and gender together in peace and love. *Lance Johnson, as an artist, Lance uses his work to inspire people from all walks of life. Especially young people who live in urban environments. He uses vibrant colors, textures and WORDS to inspire the viewer of his work. He uses words like DREAM, INSPIRE, SHINE, LOVE, LIVE, CREATE, BEAUTY, PEACE, WISDOM throughout his work to effect emotions in the viewer. *Ellen Flaks, Ellen Flaks calls herself a facilitator of creativity. She is a creative drama instructor, improvisational theater specialist, a scene study, monologue and audition coach, a puppeteer, a director, a stage manager, a public speaking coach, a birthday party savior and a supporter of the Arts in Westchester and Rockland Counties and NYC.? Ellen creates a super safe and comfortable environment where her students have a blast "stretching their imagination muscles." This is her 8th summer teaching at SummerArts.? Ellen holds a B.F.A. in Theater from Syracuse University, a Masters in Teaching from Manhattanville College and has completed the Core & Conducting training program at the New York School of Playback Theatre.
Please send me information about RiverArts' SummerArts Camp
Find More
CAMPS - MUSIC - PRINT GUIDE

The RiverArts SummerArts camp is a rich and diverse arts experience.The program runs four weeks in August, offering different themes weekly. We offer ceramics, weaving, sculpture, textile painting, improv, dance and expressive movement, acting, songwriting, and African drumming. Children entering grades third-9th, weekly in August, Monday-Friday, 9am-3pm.
Get the Best Family Activities
Sent to You Weekly!