Leapin' Lizards is Westchester's coolest, most fun, indoor playground and recreation center for children of all ages. We are conveniently located in Port Chester, NY, just off of I95 and I287 and offer FREE parking!
Children can climb, bounce, crawl, jump, and slide through our playspace which includes tunnels, mazes, ball pits and a foam forest! We offer a clean, well supervised environment for kids to play and explore, RAIN or SHINE. Parents must supervise their children at all times while they still get to enjoy and to share quality play time with their kids and friends!
Fun Birthday Parties!

Leapin' Lizards offers well managed, fun birthday parties. Our birthday party packages include playtime, a private party hostess, choice of pizza or hot dogs, and a carvel ice cream birthday cake! Birthday party groups also enjoy a private room. We also can accommodate kosher food requirements.
Every birthday party attendee receives Leapin' Lizard tokens to use in our game arcade. Kids win prizes and candy every time! Our games include Skee-Ball, Mini Basketball, and Ribbit Racing to name just a few!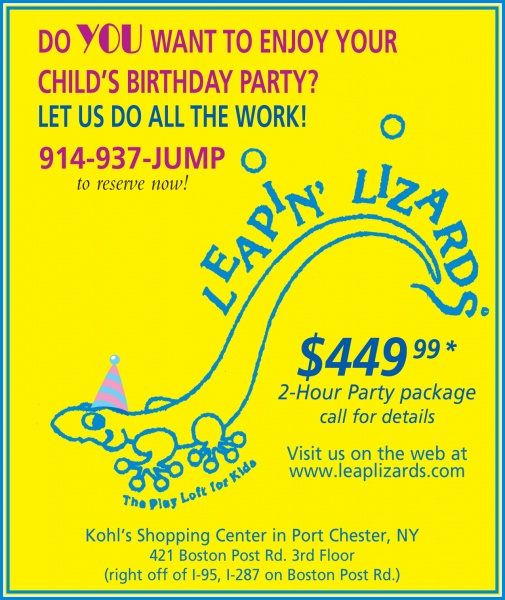 BIRTHDAY PARTIES
Leapin' Lizards is THE play and party place for kids in Westchester! Full snack bar, game room, and sand art are available. Our two-hour theme birthday party package includes playtime in the fun-filled play area (slides, mazes, ball baths, etc.), private party room for enjoying pizza, hot dogs, a Carvel ice cream cake, and tokens for our game/arcade room. Paper supplies, invitations, party favors, sand art, and balloons are included. We do all the work! Visit our website.
Want to learn more about this business? Send them a direct inquiry.
Be a good fellow parent and share this with a friend who would be interested
Read More on NYMetroParents.com:
20 Earth Day 2013 Events in New York City
Our list of 20 fun kids' events for Earth Day 2013 in New York City includes Earth Day and Arbor Day festivals, outdoor programs and volunteering events, and shows about Earth Day in the Bronx, Brooklyn, Manhattan, and Queens.

How to Incorporate Nature into Play Dates
The National Wildlife Federation and the Natural Learning Initiative at North Carolina State University have developed a guide to creating outdoor play spaces for kids in your backyard, patio, or balcony to encourage children to play outside.

Stuff We Like: Budding Scientists
From an interactive book of animal x-rays with a built-in light box to a DIY science kit made by a kid for kids, the "Stuff We Like" for our March issue feature educational fun for any budding scientist.

Lids 'N Lizards is a Fun and Educational Game for Kids
Lids 'N Lizards, a categorization game developed by Super Duper Publicatons, helps kids with special needs build up their articulation, categorization, and auditory and visual memory skills.

Long Island Lacrosse Clubs
Check out our guide to lacrosse clubs in Nassau and Suffolk Counties on Long Island.

The Rise of Lacrosse on Long Island
Lacrosse is just starting to become popular in most of the New York metro area, but for Long Island residents, lacrosse has been a way of life for many years. Find out why and how you can get your children involved in this growing sport.

How to Deal with an Unruly or Rude Guest at Your Child's Birthday Party: Advice from the Experts in Westchester County, NY
Even when you've planned and prepared till the cows come home, hosting your child's birthday party can have its moments of stress - especially when a guest becomes unruly or disruptive, threatening the fun for everyone. We've compiled advice from experts in the Westchester County, NY, area on the best way to deal with a rude party guest, so you'll be prepared to save the day when the time comes.

Westchester County Calendar Highlights: Activities for Kids and Families - May 2010
Check out some great activities and events for kids and families scheduled during the month of May in Westchester County, NY. Whether you're looking to celebrate Mother's Day or Memorial Day, catch a kid-friendly show, or just enjoy the great outdoors, we've got all the information a Westchester County family needs.