The Illustrated Wall is a team of two artists, Ann Ladd and Marie McCann. We create original, custom art for walls, furniture, floors and canvas. We have our individual styles and yet can also work in tandem to create art that is unique. Our projects range from full scale wall murals to painted furniture and framed paintings. We bring walls to life with paint. Find out what we can do for you with a free consultation.
Murals for institutions and private residence
Plain walls are transformed into story book images by The Illustrated Wall. Ann and Marie work both independently and collaboratively to create custom art for each unique situation.
Decorative Motifs
A decorative motif can be executed free hand or by the use of a stencil. The motif can be inspired by a design element present in the room, such as in a painting, a textile or a treasured object.
Faux finishing and Glazing
Glazes can be applied over flat paint to achieve faux wood grain, faux marbling, faux leather and many other beautiful effects. It can be brushed on, rolled on and ragged off. A metallic glaze can be a subtle way to bring elegance to a room, casting a delicate metallic shimmer that changes with the light.
Painted Objects
Floors, "well-loved" furniture, and new items can be re-invented as objects of beauty. We can create a decorative pattern that is unique and yet relates directly to other motifs in the room.
Free Consultations
A consultation in the client's home is the best way to begin any project. We see the space, understand how it is used, measure for square footage, and see how the space relates to adjoining rooms.

Consultations are free within a 30 mile radius of White Plains, New York. For consultations beyond 30 miles, there may be a small charge proportional to the distance and time required for travel. Let us know your location, and we'll let you know if there is a fee.

Designs for Murals
Some styles of mural can be created spontaneously on the walls, with some discussion of content and direction. For more complex murals, preliminary drawings are created. These drawings enable the client to see approximately what it is that we plan to do and can help determine the cost of the mural. The design can be modified to fit the client's budget.

Once we agree upon a design, you will know in advance - and in writing - exactly how much your mural will cost, and this price will include all labor, materials, and anything else relevant to the creation of the mural.

We charge a token fee of $350 to create drawings for murals. This price includes two revisions. Designs for exceptionally large murals or complex may cost more - usually 10% of the projected cost.

Cost of Murals
Murals may be either simple or extremely detailed and this is reflected in the cost. While very simple murals can cost as little as $20 per square foot, but many will be in the range of $30 to $50 per square foot. There is a minimum fee of $750 for any mural.

To calculate the charge for a mural by The Illustrated Wall, measure your wall and multiply the height times the width. Multiply this number by $20. Your mural will cost at least this much. The only way to reduce this cost would be to reduce the amount of square footage to be painted. Remember, the consultation is FREE! We can customize a plan for your budget!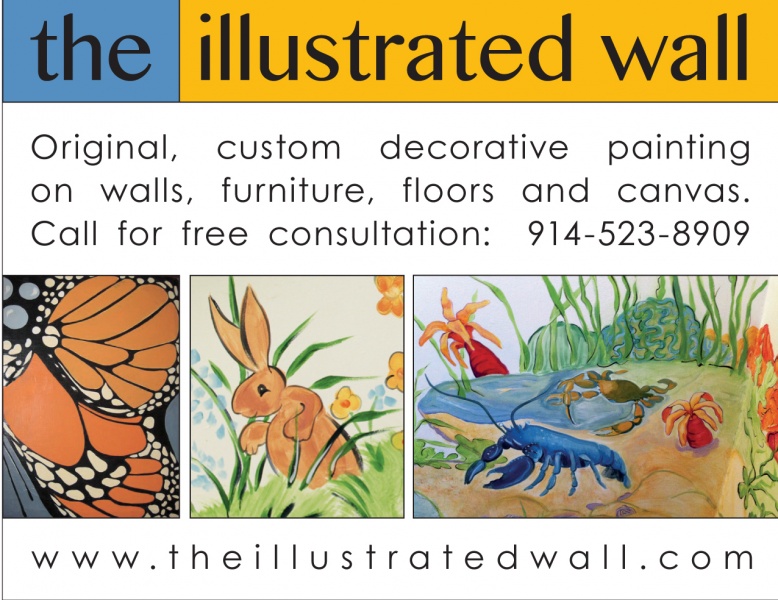 Want to learn more about this business? Send them a direct inquiry.
Be a good fellow parent and share this with a friend who would be interested
Read More on NYMetroParents.com:
Summer Activities in Westchester County, NY
Do you need great summer activities for kids in Westchester County, NY? Use our guide to find kids classes, Westchester summer camps, summer programs, activities near Westchester County, and family excursions close by. Summer activities in Westchester are at your fingertips.

Carousels on Long Island
This guide includes information on carousels and merry-go-rounds on Long Island, New York, including Farmingdale, Garden City, Greenport, Medford, and West Hempstead. We've included location, hours, price per ride, and a description for each carousel.

Fairfield County Resident Helps Mompreneurs Turn Passion into Business
VentureMom.com, founded by Darien, CT mom of three, helps mom entrepreneurs turn their own passions into businesses by allowing them to shop and sell merchandise and products made by moms.

10 Things to Ask When Researching Schools for Your Child with Special Needs
An NYC mom of four, including a son with special needs, searches for a middle school for her child with special needs and shares the top 10 questions and things to consider when interviewing schools.

Pacplex Reopens After Fixing Damage from Hurricane Sandy
After Hurricane Sandy hit, Pacplex had to close to fix the damage it sustained during the severe weather. Pacplex is reopening with some new additions to the facility. The family fitness center also offers summer camp and after-school programs.

Long Island's Top Youth Volunteers Head to D.C.
Two young Long Islanders of Nassau County will head to Washington, D.C. to join nominees for America's top youth volunteers of 2013. The two have been awarded the Prudential Spirit of Community Award for their dedication to volunteering in the Long Island community.

'Bunnicula': The Ultimate Hare-Raising Musical
Bunnicula, the popular book series by James and Deborah Howe, is brought to the stage of the DR2 Theatre in Manhattan in a new musical brimming with mystery, music, and wit. Both fans of the books and kids who are new to the story will find something to love in this show.

Let Them Fall
It's natural for parents to want to shield their children from the world's dangers and to protect them from getting hurt, even when they run around the playground or play sports. But, here's why it's healthy for parents to allow children to take risks.

On-the-Go Spa Parties Business Opens Storefront
Ritzy Glitzy Girlz Club, known for their traveling spa birthday parties for girls in Queens and on Long Island, will open a storefront in New Hyde Park. While it will still offer spa parties in your home for girls ages 4-14, the store will offer services for girls of all ages.

A List of Ethnic Restaurants to Mix Up Your Cuisine
We're lucky to live in the New York metro area, a virtual melting pot of cultures. So if your budget doesn't allow for family jaunts to India, South Africa, and other exotic locales, you can still introduce your kids to the world at ethnic restaurants. Here are a few suggestions in Rockland, Westchester, Suffolk, Nassau, and Fairfield counties, as well as Manhattan, Queens, and Brooklyn.