Since its founding in 1980, FASNY has evolved from a three teacher, 17-student nursery to a thriving school on three campuses, educating more than 800 students per year. FASNY offers a bilingual and bicultural education to a population of local American families, French expatriates, French-American families, and international families with more than 50 nationalities. FASNY families are rich in culture and tradition and their presence creates the spirit of the School, both in and out of the classrooms.
FASNY's academic program is rigorous and challenging, adhering to both traditional American and official French curricula. This dual curriculum highlights the best of both the French and American education systems. Eighty-five percent of the faculty hold advanced degrees, an impressive statistic for a school our size. Accredited by the French Ministry of National Education, New York State Department of Education, and the New York State Association of Independent Schools, FASNY is proud to be the only true bilingual and bicultural school in the greater New York City area. Students are awarded a FASNY diploma and are prepared to pass the French Baccalaureate.
As the world grows more global by the minute, we embrace the need for broader cultural understanding. The School emphasizes the importance of appreciation and tolerance of diverse cultures.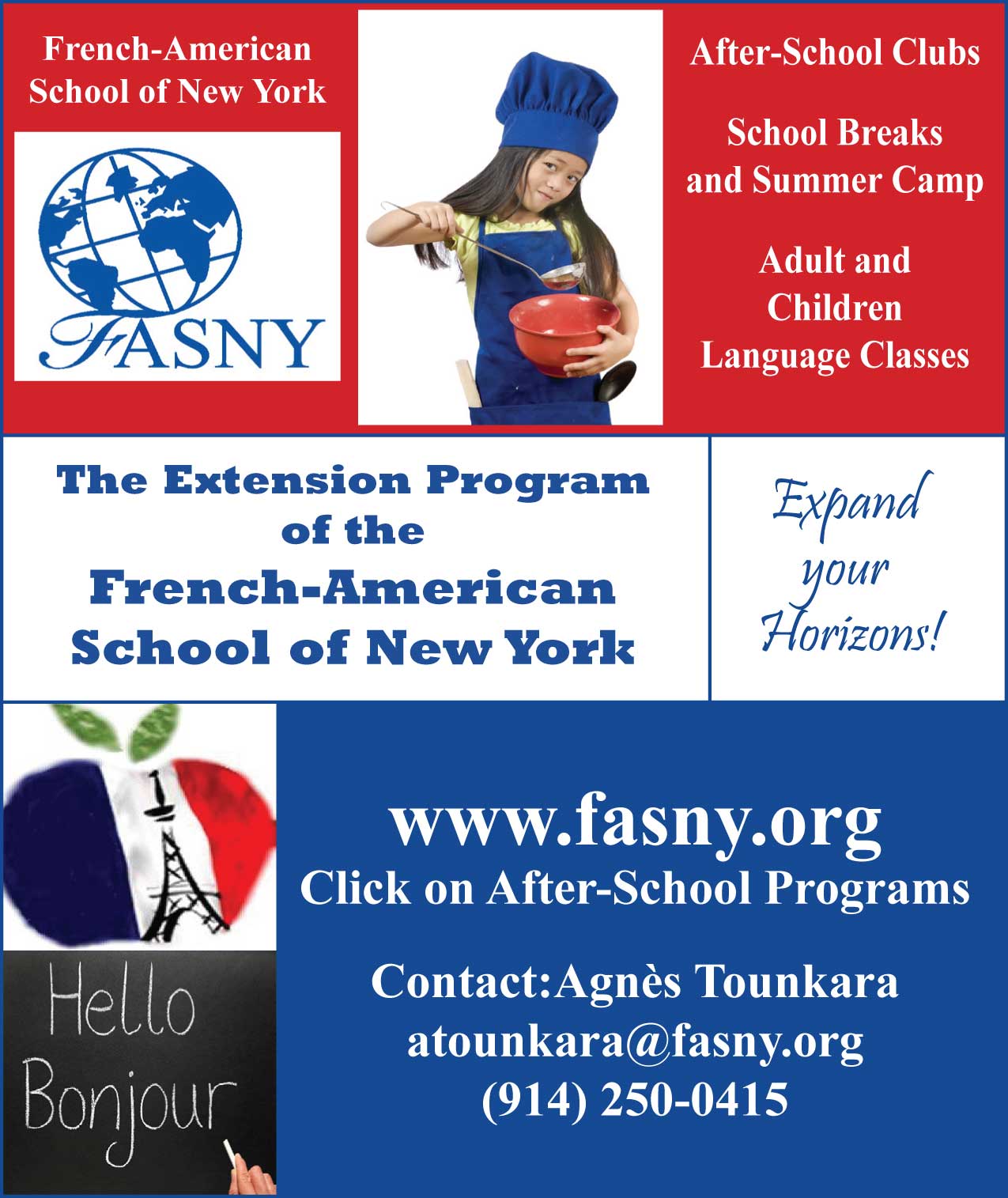 EDU - PRIVATE SCHOOLS
Bilingualism is at the core of the FASNY experience. The French-American School of New York (FASNY), a coeducational day school for children, Nursery through Grade 12, offers a dual curriculum in French and English, combining the greatest strengths of both the French system and the best US independent schools. Students are graduated with the French Baccalaureate and a FASNY high school diploma. Give your child the ability to play, write, read, sing, act, formulate concepts, raise questions, and make friends in two languages!
Want to learn more about this business? Send them a direct inquiry.
Be a good fellow parent and share this with a friend who would be interested
Read More on NYMetroParents.com:
Long Island Dad on Mission to Make Swim Time Safer for Kids
One Long Island dad is making it his mission to teach children about pool and swimming safety through the Long Island Drowning Prevention Task Force.

Summer Activities in Rockland County, NY
Searching for great summer activities for kids in Rockland County, NY? Use our guide to find kids classes, Rockland summer camps, summer programs, activities near Rockland County, and family excursions close by. Find all of your summer activities from Nyack to Suffern in Rockland County.

Asphalt Green's Battery Park City Location Offers Family Programming
Asphalt Green's new Battery Park City location offers the same athletic and fitness programming to youth, adults, and families, as well culinary and cultural classes. Asphalt Green also offers summer day camp for children ages 4-13, which includes sports and swim instruction, as well as cultural arts.

Manhattan Laser Tag Can Bring the Party to You
PARTYpoopers, Tribeca-based party planners, now offers Manhattan Laser Tag Parties. The laser tag birthday parties can either be hosted at the PARTYpoopers location or at a location of your choice—they bring the party to you for birthday, graduation, or bar/bat mitzvah parties. The laser tag is designed for children ages 8 and older and is completely safe, using only light.

Athletic Training School Building New Facility in Port Washington
Athletic training facility Parisi Speed School is currently holding its classes at the Port Washington Tennis Academy while its new facility is being built. The training center offers fitness classes for ages 7 to adult that build agility, strength, speed, and self-confidence, while helping athletes get and stay in shape.

A Father's Letter to His Children on Wilderness and Love
Author and father Charles R. Scott of NYC writes a letter on boredom, wilderness, and love to his two young children with whom he has taken on a 46-day cycling adventure around Iceland.

Catch Disney's Dusty of 'Planes' at NYC's Air Show at Jones Beach
Kids will delight when they see the surprise guest -- Dusty, the star of Disney's new movie "Planes" -- at this year's Bethpage Air Show at Jones Beach during Memorial Day weekend.

Village of Ossining Celebrates Its Bicentennial
The Village of Ossining is celebrating its 200th birthday with an outdoor sculpture exhibit, "Ossining in 3D," that weaves through the Village's historic buildings and downtown waterfront area. It will be on view through Oct. 26, 2013.

Grammy Nominated Matisyahu Helps Spread Anti-Bullying Messages on YouTube
Grammy Award-nominated Matisyahu invites artists to spread messages of anti-bullying and self-empowerment by submitting their own covers of the song "Live Like a Warrior" on YouTube.

Summer Activities in Westchester County, NY Part 2
Do you need great summer activities for kids in Westchester County, NY? Use our guide to find kids classes, Westchester summer camps, summer programs, activities near Westchester County, and family excursions close by. Summer activities in Westchester are at your fingertips.