For over 20 years, Dave's has been providing quality entertainment for all ages - from 1st Birthdays to Communions to Bar/Bat Mitzvahs to Graduations and everything in between. We even have entertainment for fully-grown children (sometimes called "adults").

Our wide range of entertainment choices ensures that we have anything your party needs.

Want performers? We have over 100 costumed characters, theme parties, clowns, magicians, jugglers, facepainters, balloon sculptors and more.

Inflatable fun? No problem - we have bouncers, slides (wet and dry), obstacle courses, toddler pieces and "specialty" units, like our Velcro Wall and Bungee Bull.

Every party needs music, so we have DJ's, Karaoke, singalongs and live bands.

Would you like a carnival theme? We have carnival games, Dave's Gameworld Arcade, a trackless train and an airplane ride. Of course, popcorn, cotton candy and sno-cones add to the fun.

Here at Dave's Cast, we do much more than provide top-notch entertainment. We can help you plan every aspect of your event, including:
Venue Selection
Catering
Tents
Stages & Dance Floors
Photographers/Videographers
Lighting & Sound Equipment
Seating (Tables, Chairs, Linens, etc.)
Décor (Balloons, Centerpieces, Backdrops, etc.)
Favors/Giveaways
Call us and we'll work with you to make your event perfect!
What could be more fun? Our Fun Food Carts add that extra special touch to any event. We provide a full cart and an attendant to dish out the treats.
It is always a treat when your guests have a keepsake to bring home from your party. Whether it's a T-Shirt with the person's photo on the front, silly snaps from our Photo Booth or a beautiful Sand Art sculpture, your guests will have a wonderful, long-lasting memento of the party.

At Dave's Cast, you can get a wide variety of Theme Parties sure to delight your child. We have the Dare Challenge Party (super-messy); the Hip-Hop & Happenin' Party (super-cool), the Kids' Coach Party (super-sporty) and many more.

HALLOWEEN PARTIES
Gather 'round Trick or Treaters and get ready for Dave's Cast of Characters Halloween Bash! We've got spooky ghosts, friendly witches and your favorite character dressed up for Halloween. For the younger crowd, the fun starts with a little Sing-Along with some of your favorite holiday songs, including Five Little Pumpkins, Monster Mash, and a Halloween Story. For older children, we teach Time Warp and tell a scary story.

BEST GIRLFRIENDS PARTY
It all starts with time at the "spa." Choose one or more glamourous treatments such as hair braiding and beading, hair wrapping, facepainting, temporary tattoos, nail art and more!

BERRY GIRL PARTY
Get ready to have a berry amazing birthday party with our Berry Girl and her friends. There's Miss Apple, Ginger Girl, Angel, Orange Girl and Blue BerryBoy and most important the official princess of Berry Land, sweet and spunky, Berry Girl. She's our special little red head with enough optimism to fill a strawberry patch. So if you're ready for an adventurous birthday hang on to your berries because here we go...

SCAVENGER HUNT PARTY
Going on a Scavenger Hunt is a totally awesome way to celebrate your birthday. It's great for boys, girls or both together. It's daring, adventurous, challenging and so much fun you will barely be able to handle it.

DARE CHALLENGE
Bring the classic game of Dare to your home. We provide the Hosts, the Games, the Props, the Fun and, of course, the Slime! Challenge your kids' minds and physical abilities in the zany world of DARE.

SUPER SPY PARTY
The Spy Chief will lead the "Trainees" in a series of games and activities, designed to "teach" them how to be a Super Spy, for which they receive a variety of prizes.

LAND & SEA PARTY
Get together to spend an afternoon on Land & Sea, become immersed in water, while more activities await on dry land. Dave's Cast of Characters Land & Sea Party makes that all happen.

HIP HOP & HAPPENIN' PARTY
It's Hip! It's Hop! It's Happenin'! It's totally cool for everyone! Two MTV-type DJ's will make an appearance to kick your party into high gear with kid-friendly pop that really gets them moving.

WIZARDS PARTY
Turn your home into Wizards School with a Dave's Cast of Characters' Wizard Party. This is a party with games and activities centered on a wizardly theme with a generic wizard or witch motif. Appropriate decorations to create the illusion are provided with the party.

AMERICAN GIRL TEA PARTY
What could be better than having American Girls present at a tea party for your children? Our American Girls will lead the group in a series of fun activities centered around a classic old-time Tea Party.

KIDS' COACH PARTY
A High Energy, athletic show that's great fun for boys and girls of any age. Dave's Cast of Characters provides a complete event including The Coach and his whistle. Upbeat, fun, kid-friendly Pop Music will be played throughout the party.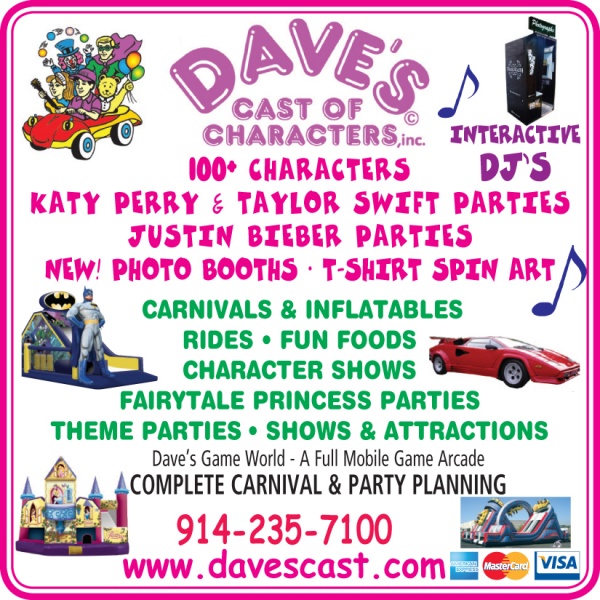 BIRTHDAY PARTIES
Make your party a special one! Dave's entertainment services include over 100 costumed characters: from princesses and superheroes to pirates and tea parties, holiday parties for Halloween, Thanksgiving, and Christmas. We feature DJs, clowns, magicians, face painters, balloon sculptors, and food carts. Spectacular inflatable attractions include: Wild One and Kong's Revenge obstacle courses, Cliffhanger Slide, and Mickey Park. We have loads of indoor inflatables for when the weather gets cold. Our new Photo Booths provide memorable keepsakes. Enjoy Bouncers, Carnival Games, Gladiator Joust, Sports Inflatables, robot rides, racecars, and more.
Want to learn more about this business? Send them a direct inquiry.
Be a good fellow parent and share this with a friend who would be interested
Read More on NYMetroParents.com:
Long Island Dad on Mission to Make Swim Time Safer for Kids
One Long Island dad is making it his mission to teach children about pool and swimming safety through the Long Island Drowning Prevention Task Force.

Summer Activities in Rockland County, NY
Searching for great summer activities for kids in Rockland County, NY? Use our guide to find kids classes, Rockland summer camps, summer programs, activities near Rockland County, and family excursions close by. Find all of your summer activities from Nyack to Suffern in Rockland County.

Catch Disney's Dusty of 'Planes' at NYC's Air Show at Jones Beach
Kids will delight when they see the surprise guest -- Dusty, the star of Disney's new movie "Planes" -- at this year's Bethpage Air Show at Jones Beach during Memorial Day weekend.

Summer Activities in Westchester County, NY
Do you need great summer activities for kids in Westchester County, NY? Use our guide to find kids classes, Westchester summer camps, summer programs, activities near Westchester County, and family excursions close by. Summer activities in Westchester are at your fingertips.

Theater Review: Off Broadway's 'Old Hats'
"Old Hats," the Off Broadway show by comedy duo Bill Irwin and David Shiner, combines old-school vaudeville with live music and modern technology for a mostly family-friendly show brimming with irony and hilarity.

FasTracKids Moves to Rego Park for Parent Convenience
National early childhood program FasTracKids recently moved from its Kew Gardens location to a location in Rego Park that is more accessible by public transportation and by car. The Rego Park location has a pool on the roof, which the owner hopes to soon enclose for year-round swimming instruction, as well as access to neighborhood parks.

Girl Behind Dora the Explorer Manhattan School
Fatima Ptacek, a 12-year-old girl from Queens who is the voice of Dora the Explorer, visits a Manhattan elementary school to celebrate Read Across America Day in honor of Dr. Seuss's birthday.

'Cinderella' on Broadway: A Magical Musical with a Modern Message
In 'Rodgers and Hammerstein's Cinderella' on Broadway, the beloved fairy-tale princess makes her debut (in glass slippers, of course) in a musical filled iconic songs, loveable characters, and a few modern surprises.

Win 4 Tickets to Mickey's Music Festival at Madison Square Garden!
Get together with Mickey Mouse, Donald Duck, Goofy, Aladdin, Buzz Lightyear, and more of your favorite Disney characters as they sing and dance to remixed Disney songs that incorporate sounds of hip hop, pop, swing, rock, and country at "Mickey's Music Festival" at Madison Square Garden.

Last Chance To See The New Vic's Family Friendly 'As You Like It'
It's the final weekend of the New Victory Theatre's family friendly production of Shakespeare's "As You Like It" and we think you should take this opportunity to introduce your kids to the Bard.