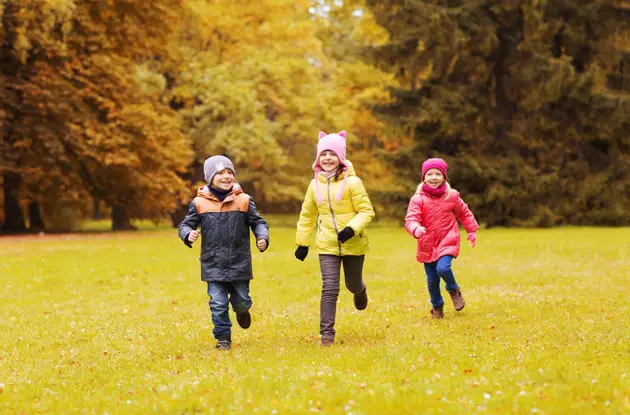 The Health Benefits of Playing Outside
Here's why your child should be playing in the dirt and spending more time outdoors.
Get kid-friendly activities sent to you!
Get the Best Kid-Friendly Activities
Sent to You Weekly!
Beginning about two centuries ago, children have been spending an increasing amount of time indoors, primarily because of schooling. This trend accelerated with the invention of radio, television, video games, and now smart phones. While there's not an easy way to move schooling outdoors, the research argues that we should get our kids outside as much as possible on weekends and school breaks if we want them to have good vision.
RELATED: How Vision Problems Affect School Work


Gross Motor Skills Development
While this is probably obvious, the reasons why may not be. Various forms of physical play involve basically all areas of the brain, and regular workouts are incredibly beneficial to a developing brain. Even simple things like climbing the monkey bars, balancing on the seesaw, and pumping the swings recruits disparate brain areas including those involving vision and tactile sensation, and centers for muscle coordination, balance, and equilibrium. Coordinating different brain areas is a skill that translates to other cognitive tasks. While we don't think of physical play as promoting intelligence, research shows that it does.
Sporting play also helps kids learn strategy, patience, problem solving, and concentration. Competitive sports also help children learn social skills such as teamwork and collaboration and how to enjoy victory respectfully and accept defeat gracefully. These interactions put a new spin on friendships and other relationships, which can build empathy and emotional intelligence. Also, engaging in frequent low-stakes competitions helps children learn to manage stress and anxiety. Handling stress is something we can only learn by doing.


Science has confirmed the validity of age-old folk wisdom. For a healthy immune system, good balance, sharp vision, adept social skills, healthy stress management, and an imaginative mind, just channel your own parents and tell your kid to go play outside!